This page is the brochure for your selected program. You can view the provided information for this program on this page and click on the available buttons for additional options.
Summer Program: Florence Summer Session
Florence, Italy
(Outgoing Program)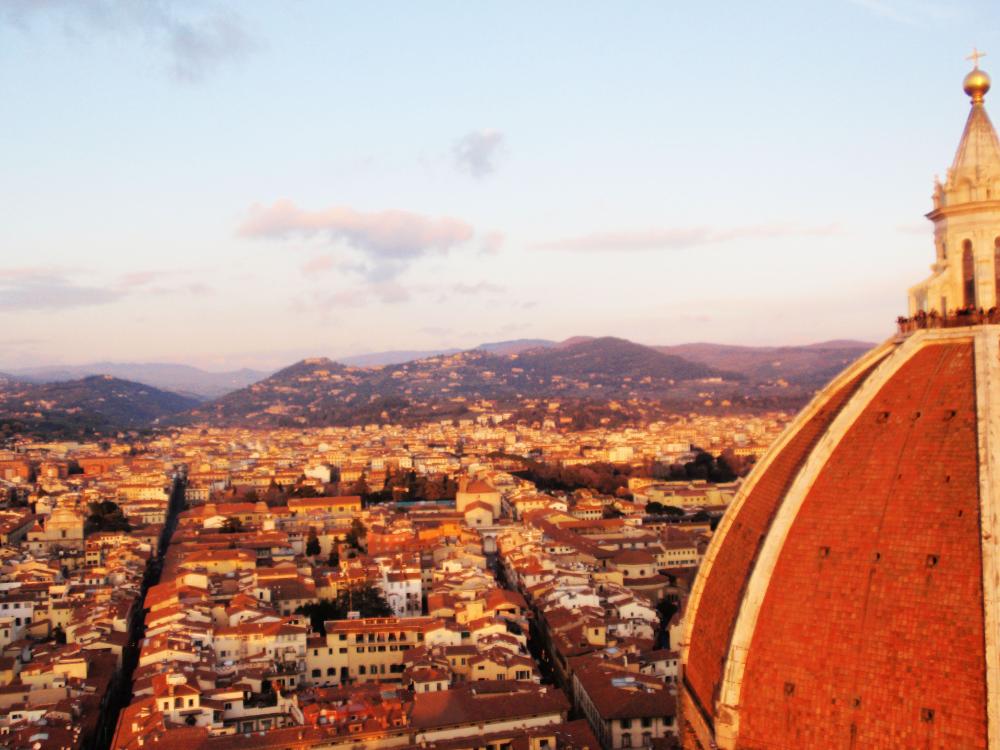 Navigate this Page
Rediscover the Renaissance and the rebirth of antiquity in the living museum that is Florence, Italy. The city is your classroom as top researchers and scholars help you uncover the connections among the past and present, politics, and creative genius. The Florence staff and faculty have rich international expertise and research interests. They'll provide academic and cultural guidance and facilitate your immersion and integration into the community.

The Florence Summer Session allows you to customize your program according to your interests and desire for exploration. To enhance your learning experience, most courses feature field trips and excursions within Florence and to locations outside the city. Internships are also available.

See suabroad.syr.edu/destinations/summer for complete descriptions of summer courses and related field study.
Undergraduate and graduate students in good academic standing at any accredited college or university are eligible to apply to this program. Please note however that not all courses are offered at the graduate level.
Students will arrange and pay for their own round-trip transportation to Florence. Transportation for course-related field trips is arranged by SU Abroad and covered by the course fees.
Advantage Travel will arrange a group flight for students on this program. We encourage students to travel on the group flight, which includes ground transportation upon arrival. Group flight information can be found
here
.
Please note that while we encourage students to pursue flight arrangements, we would not encourage you to purchase your airline tickets before confirming that the program and courses you plan to take will be offered. Please request written notification from us that you can book your flight. You will have to present this notification if we cancel the program at a later date, and you want to be reimbursed for the cost of the ticket.
On the day of arrival, students are housed in a hotel with dinner and breakfast provided. Orientation takes place the following day and students then receive their housing assignments. Students are housed in private homes with Italian hosts who provide breakfast and one main meal per day for the duration of the program, except on weekends when breakfast only is provided. Students, who wish to live in a private home after the program ends will have to pay an additional fee to their hosts. Students are placed in their homes after they arrive in Florence.
The classes introduce students to the riches of Italy's cultural world heritage, and offer insights into topical themes. Most course feature field trips and excursions in Florence and locations outside the city.

Students may register for 3, 4, 6, or 7 credits by selecting one or two of the following summer session offerings.

---------------------------------------

Italian Language
Courses include ITA 100 (Conversation), ITA 101, ITA 201, ITA 325, and ITA 380 (taught at Centro Di Cultura per Stranieri).
Descriptions are available on our website. Some classes include site visits in Florence and field study in Tuscany.

---------------------------------------

"Vision and Representation" Imaging in Florence Today
APH 300 (3 credits) undergraduate
This course provides an overview of photography as a visual language as well as narrative strategies as a prevalent aspect of photography and photo-related imagery. Students are introduced to fundamental techniques in photography focusing on digital processes.In this course, students will explore design components as well as the aesthetics of contemporary photography through a variety of assignments, field trips and lectures. The field trip to the Venice Biennal of Contemporary Art 2015 is strongly encouraged.
---------------------------------------

Music and Theatre in Early Modern Italy
DRA 200 (3 credits) undergraduate
This team-taught seminar combines close reading and analysis of selected plays by authors such as Poliziano, Machiavelli, Tasso, and Andreini with attentive listening to works by Monteverdi, Peri, Caccini, and others, to explore the world of early modern Italian drama and music (especially opera). Featuring site visits and the option to participate in acting workshops, the course aims not only to provide in-depth knowledge of the subject but also to develop skills in interpreting plays and musical works.

---------------------------------------

The Lighting of the Piazza: The Magic of Light in Italy
DRD/DES/ISD 300 (3 credits) undergraduate
Light is a thread that weaves through art, culture, architecture, and design. Through this interdisciplinary studio/lecture course, you'll study the concept of light in Italy, its natural contexts, its creation utilizing artificial luminaries, and the fascination and manipulation by historical and modern artists from many perspectives. Field study visits include sites in Florence, Rome, Vicenza, and Venice. This course will be taught by Alex Koziara, from Syracuse University's College of Visual and Performing Arts.

---------------------------------------

The Industry of Knowledge: Higher Education in a Global Context
EDU 400 (3 credits) undergraduate
The course gives students an overview of international education and its history and highlights the differences between US and European academic systems at the higher education level. Students are guided and encouraged to reflect on international academic organizations by building on their own experiences while also being students abroad. Through site visits, hands-on assignments, and on-the-ground research, students will examine, analyze, compare and discuss other study abroad programs and other academic institutions to compare different pedagogies, teaching and learning styles, didactic systems and structures and ethical goals. The city of Florence, one of the largest hubs of international education, is treated as an open classroom and the subject of students' investigation.

--------------------------------------
Creative Writing Workshops: Poetry and Fiction
ETS 300 (3 credits each) undergraduate
The four-week poetry and fiction workshops will be Italian editions of those run by the faculty of the Syracuse MFA program, using exercises that incorporate the cultural experience of Italy with our experience as temporary expatriates. Classroom work will focus on original student work with emphasis both on the craft—the language and the shaping and forming of the writing—and the imagination—the vision that's unique to each individual. Students sign up for EITHER the 3-credit fiction OR 3-credit poetry workshop. The Syracuse Creative Writing Program is one of the oldest and most prestigious writing programs in the US. For bios of Syracuse Creative Writing Faculty, see http://english.syr.edu/creative_writing/ProgramFaculty.html.

---------------------------------------
Masterpieces of Italian Art
HOA 201 (3 credits) undergraduate
Study major Florentine and other Italian works of art through a mixture of lectures and on-site visits. Includes site visits in Florence and field studies in Rome and Siena.

---------------------------------------

Between Avant-Garde and Tradition: Modern Art and Architecture in Italy
HOA 300 (3 credits) undergraduate
Italy has more World Heritage Sites per square foot than any other country in the world and also possesses several of the world's most-visited museums. Most of the famous works in Italy, however, predate Italian unity (1861–65). This course will investigate the scope of Italian artistic ingenuity during the past century and a half and put it into the context of European art movements. Includes on-site visits in Florence, Rome, and Milan.

--------------------------------------

Leonardo da Vinci
HOA 300 (3 credits) undergraduate
Leonardo da Vinci—artist, scientist, engineer, and architect— represents a fundamental figure in the intellectual and cultural history of the West. This course introduces you to the wide-ranging works of da Vinci within the artistic, historical, and religious contexts of the time.

--------------------------------------

The Italian Mafia
HST/SOC 300 (3 credits) undergraduate
Analyze the Mafia phenomenon through historical, social, and cultural perspectives. The course features field study in Sicily, including working on lands that have been confiscated from the Mafia.

--------------------------------------

Summer Internships in Florence
IPA 470 (1–3 credits) undergraduate
Enhance your Italian language skills by taking part in a summer internship in a field such as art history, museum studies, media and communications business, marketing, public relations, political science, international relations, women's and gender studies, or education. Dates may vary depending on exact placement. Click here for a list of internship opportunities.

--------------------------------------

Metalsmithing
JAM 280 (3 credits) undergraduate
Work directly with artists in Florentine studios on the design and fabrication of jewelry.

--------------------------------------

Intermediate and Advanced Jewelry Making
JAM 300/500
Intermediate and advanced jewelry students will work under the guidance of experts in jewelry design at Alchimia Contemporary School of Jewelry. Alchimia is known for its experimental approach and focus on contemporary
technology to update and assimilate traditional techniques in developing the artist's personal vision.

--------------------------------------

The Mediterranean Food and Culture: An Italian Experience
NSD 452/652 (3 credits) undergraduate or graduate
Experience one of the most renowned cuisines in the world, from food systems to dietary patterns and health risks. This course is taught by SU Florence faculty member Professor Peter Fischer.

--------------------------------------
Print Media and Graphic Art: Relief
PRT 255 (3 credits) undergraduate
Printmaking courses will be available at introductory, intermediate, and advanced levels, and workshops in hand paper and printmaking research will also be offered. These courses will be taught by Dusty Herbig, from Syracuse University's College of Visual and Performing Arts.

--------------------------------------
Studies in Comparative Democracy: Europe and the Americas
PSC 300 (3 credits) undergraduate
This course presents a comparative perspective of the so-called longstanding democracies of Europe and the United States. In times where democracy faces major challenges on both sides of the Atlantic, it is important to understand the differences and similarities behind these challenges.

--------------------------------------
Italy and the Italians: A Cross-Cultural Study
PSY/SOC 400 (3 credits) undergraduate
This course will expose you to the field of cross-cultural studies, with a focus on Italy and its inhabitants. Includes excursions and local guest lecturers.

--------------------------------------

Mixed Media: Contemporary Art Practices in Italy
PTG/STA 300/500 (3 credits) undergraduate or graduate
This course investigates artistic traditions that extend relationships with the found and the ready-made and blur boundaries between art and life: collage, photomontage, assemblage, urban interventions/interactions, as well as time based media such as video and sound. Weaving in and out of both 'high art' museums and the 'low art' of everyday materials, students will develop a series of works exploring the cultural and aesthetic fabric of Italy, while questioning the precise location of art and art making in today's contemporary global context. This year students will have the opportunity to visit The Venice Biennale.
--------------------------------------
Business Excellence and Made in Italy: Food, Fashion, and Design
SOM 300 (3 credits) undergraduate
Examine the business world of "Made in Italy" using a mix of theory, case studies, guest lectures, and site visits. Focus on Italian enterprises of excellence, including the food, fashion, and design industries.

--------------------------------------
Batik
TEX 280.1 (3 credits) undergraduate
Work directly with artists in Florentine studios on fabric arts.

--------------------------------------
Silkscreen
TEX 280.2 (3 credits) undergraduate
Work directly with artists in Florentine studios on textile arts.

*It is the student's responsibility to confirm with their home school/college that the course(s) taken as part of this program will satisfy their degree requirements.
The faculty selected to teach in the SU Florence program are carefully chosen for their scholarship and professional accomplishments as well as for their reputations for excellence in teaching. Most have taught for Syracuse University for many years. More information regarding our Florence faculty can be found
here
.
| | |
| --- | --- |
| Arrival in Florence: | May 28, 2015 |
| Housing begins: | May 28, 2015 |
| Orientation (required): | May 29, 2015 |
| Summer Session begins: | June 1, 2015 |
| Summer Session ends: | July 11, 2015 |
| Housing ends: | July 11, 2015 |
| Depart Florence: | July 11, 2015 |
*Applications received after February 20 will be considered if there is still space in the program.
UNDERGRADUATE (3 credits)
Tuition
$3,335 (estimated rate)
Program Fee
$2,400 (estimated rate)
Total
$5,735
UNDERGRADUATE (6 credits)
Tuition
$6,670 (estimated)
Program Fee
$2,400 (estimated rate)
Total
$9,070
GRADUATE (3 credits)
Tuition
$4,164 (estimated)
Program Fee
$2,400 (estimated rate)
Total
$6,564
Please note: All costs are estimated and subject to change. Note that many courses include course fees which are billed to students following the end of the formal summer registration period.

Additional Financial Information: We estimate that students should budget accordingly for the following expenses:

Air travel: $1,800
Books & Supplies: $100
Personal: $800
Lunches and other meals: $600

These figures are for expenses not covered in the tuition or program fee and are paid out-of-pocket.
There are currently no active application cycles for this program.